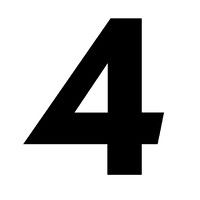 Closes in 8 days
Remote Job
Facebook/Youtube Media Buyer
Summary About 4Media
We're a dedicated team of passionate leaders who have worked diligently to make 4Media one of the largest and strongest E-commerce Growth Agencies in the United States. We have approximately 90+ employees that consist of Strategists, Media Buyers, Customer Success Managers, Graphic Designers, Photographers and Videographers, Email Marketers, Copywriters, Developers, and so much more!

We believe that excellence begins with a team focused on the same goal – to make our clients happy by growing their businesses profitably and providing them with a world-class experience. We aim to achieve that by providing elaborate employee training, support for growth and learning during each team member's employment, and cultivating happy company culture for every single employee. To us, enjoying your career is as important as excelling in it.
Talent and experience are important, but your commitment to improve, the standards you hold for yourself, and your determination to "get it done no matter what" are the traits we admire most.
Responsibilities
Embody & Promote Team Values
As a leader within 4Media, you are responsible for manifesting our core values at all times and inspire your team to demonstrate these values as well.
Comfortable managing multiple Facebook Ad Accounts simultaneously

Communicate how the strategy is performing to your team.

Continuously measure and optimize campaign performance while also establishing benchmarks and recommending future tests.

Use a data-driven approach to recommend marketing strategies to support and achieve the client's business objectives.

Leverage creative and marketing knowledge to develop new creative, landing pages, and campaigns for specific brands.

Review backend performance to ensure specific profitability goals.

Gather data on consumers, competitors, and market conditions.

Ensure Funnels/Websites are working and set up correctly ready for traffic.

Optimize and Split Test

Weekly client communication and measurement of important numbers & KPIs

Ensure all tracking codes are installed and working properly.
Qualifications & Things We'll Love About You
A great holistic understanding of eCommerce and digital marketing

2+ years of Facebook Ads experience OR managed over 6 figures in ad spend on Facebook

Knowledgeable with 3rd Party Tracking Softwares (HYROS, Wicked Reports, Northbeam, TripleWhale, etc.)

Proven track record of profitably optimizing Facebook Ad Accounts (both large & small) towards specific CPC goals.

A great decision maker comparing data from different sources to draw conclusions and take action consistently with available facts, constraints, and probable consequences.

Excellent work standards set high standards of performance and ethics

Strong analytical skills - this position is strictly focused on ROI and is metrics driven.

A creative and strategic thinker to be able to bring new ideas for testing and optimizing accounts.

Understands how to set up tracking for Facebook Ads Manager / Verifying Domains

Understands how to read a Shopify Analytics Dashboard.

Understanding of Upsells, Downsells, & Cross-sells

Understands how to read Heatmap tools (example: Hotjar)

Critical thinker and superior problem-solving skills

Good time-management skills

A great communicator to be able to clearly convey information to individuals or group settings.

Experience in a B2B and DTC subscription based business model: (Marketing Agency, SAAS, professional services, etc).

Ability to think analytically in terms of numbers and data.

Ability to think systematically in terms of frameworks and processes.

Ability to conduct intense problem solving.

Ability to backwards plan: translating objectives into necessary strategy - and backwards further into specific action steps.

Excellent written & verbal communication skills. Ability to relay complex strategy with EXTREME clarity. Enjoys speaking with customers and team members to understand and solve their problems.

Coachable and open minded, with a strong desire to grow personally and professionally. Has strong coaching skills and knows how to teach new skills and provide coaching in an empowering way to team members.

Able to collaborate across the organization.

Ability to simultaneously balance stressful situations, short deadlines and multiple projects and team members reporting to you.

Able to be flexible and agile in responding to evolving business priorities and troubleshoot unforeseen complications. Experience managing initiatives & growth projects.

Tech savvy and has a genuine interest in software and products. Experience learning and building workflows & processes inside of CRMs, project management tools, customer success management platforms etc. Leverages technology to make the team & process more efficient.
This Job Isn't For You If:
You don't have media buying experience

You're not passionate about social media and marketing

You don't understand sales and psychology

You are not a good communicator

You don't like constructive criticism

You are not a team player

You don't align with our company's core values

Not detail oriented

You are a procrastinator

You don't understand eCommerce

You are not passionate about company growth
Compensation
$36,000.00 - $66,000.00 per year
Hours
9:00 AM - 6:00 PM EST
Benefits
Health

Dental

Vision

Life Insurance

PTO

Paid Holidays

Paid Sick Days
Type of Employment
Full Time
W2
Remote
4Media's Core Values:
1. Nobody is bigger than the team.
2. Hard work beats talent, but planning beats hard work.
3. We don't make excuses. We take responsibility.
4. All in or nothing.
5. Always be growing.
Could this job be the one?