Resources and Services to Support you in all Stages of your Hiring Process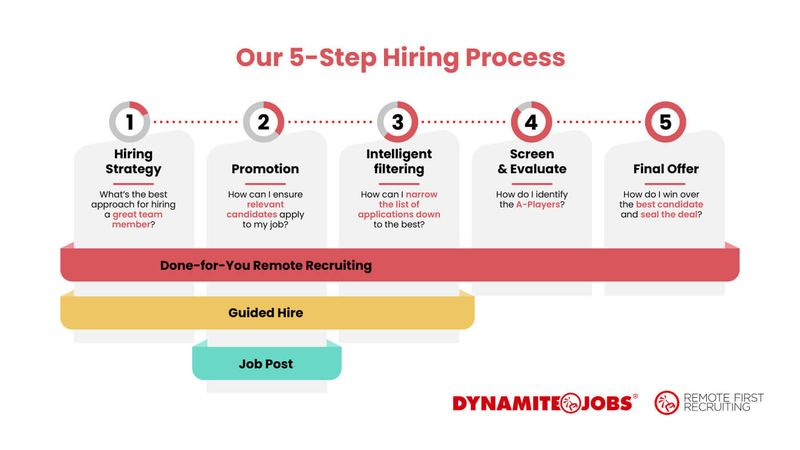 Welcome to Dynamite Jobs, your ultimate resource for building your remote team. In this blog, you'll find a wide range of services and resources to help you locate and hire global top talent for your business. If you want to run the hiring process yourself, we've created a set of guidelines to help you attract, interview, and hire top candidates. However, if you prefer to have a partner handle the hiring, we offer various services to support you in each of the 5-step hiring process.  
Want to speak with an expert about the hiring market, salary ranges, or how to find remote talent? book a call with Greg, our Head of Recruitment (not a sales guy!).
Find in this blog: 
Looking for Hiring Support? Here are Our Services:
Want to improve your hiring skills and run the process yourself? Here are the Resources available to you:
Looking for Hiring Support? Here are Our Services:
Remote Recruiting
We created "Remote First Recruiting" (formerly known as 'Dynamite Jobs recruiting services') to support busy entrepreneurs who are focused on growing their businesses. This service covers steps 1-5 of the hiring process and helps you hire A-players from Europe, Asia, Latin America, and North America.
Partner with us for a flat fee of $5,500.
Here's why you should partner with our expert recruitment team: 
Our recruiters will have a discovery call to understand your company's needs and plan an effective campaign to bring suitable candidates to your job.
You can chat with our team anytime via Slack/Teams to stay updated and ask questions.
We'll help craft an attractive job description and advertise it on Dynamite Jobs and other relevant platforms.
Only top candidates will be sent to you after our thorough screening and interview process.
Our team will assist you in closing a deal with a candidate.
We'll provide follow-up support to ensure a smooth process after you hire.
Guided Hire
Guided Hire, also known as Recruiting-Lite, is a service that focuses on assisting remote-first companies in developing a hiring strategy, launching a recruitment campaign, and identifying the most qualified candidates. This service covers steps 1-3 of the hiring process and it's a great option for busy, but still hands-on, hiring teams. 
For $2500* you will: 
Partner with our expert recruitment team to develop a strategy to promote and hire your next team member
Connect with our recruitment team via Slack/Teams, to keep active communication throughout the hiring process
Promote your listing on Dynamite Jobs 
Access to our Applicant Tracking System and our database of 230k+ job seekers
Receive a pre-screened list of candidates recommended to interview, with detailed notes, advice and tips for screening calls.
Post a Remote Job
Starting at $399, this service, which covers the second step of the hiring process, is ideal for remote companies that already have a hiring strategy in place and are ready to fill their job openings.
By posting a job on our site, companies will have direct access to over 250,000 candidates, allowing them to interact with potential hires and invite them to apply to their listings. Additionally, this service includes access to our Applicant Tracking System at no extra cost.
Pre-vetted Candidates
Our recruitment team is constantly vetting candidates on our database to present only top candidates with strong skillsets and experience. Browse through the candidates who are actively seeking new opportunities. Connect with them at no cost, and if you find the perfect fit, there's a simple flat fee charge.
Want to improve your hiring skills and run the process yourself? Here are the Resources available to you:
The Hiring Process and Timeline
This resource provides a detailed breakdown of the hiring process you'll need to follow to successfully find your next team member. It includes an estimate of the time it takes to hire a new team member, as well as a checklist of important elements to consider before beginning the hiring process.
Scorecard Template
Don't start hiring without a scorecard. A scorecard is an effective tool for clearly communicating job expectations, quarterly goals, and projects, as well as the methods and means for achieving them. 
By filling out the scorecard for a job, you'll know exactly the candidates you need for the role and how to assess them. This tool also helps provide regular and balanced feedback to team members, ensuring they clearly understand their responsibilities and targets.
Make a copy of the Scorecard Template here
Job Description Template
The job description is the first impression you'll make on new candidates, so make sure it's a positive one. 
This template has best practices, and examples so you can make a compelling and intriguing job ad. The best job ads receive the most amount of applications, leading to a great talent pool to choose from. Don't miss out on plenty of potential talent by not taking the job description seriously. 
Creating a Video for Your Job Description
This article offers guidelines on what to include when recording a video for your job description, as well as examples of other videos used in real job ads on our site. It's worth noting that including a video in your job ad can increase engagement and build trust with potential candidates.
Application Process Template
This resource provides a list of common questions to ask candidates when gathering applications. It's common for hiring managers to put too many questions, leading to fewer applications or having not enough questions, leading to a long application review process. This template will help you make your application just right.
Interview Questions and Reference Checks
When sorting through a pool of hundreds of applicants, it can be difficult to determine which candidates stand out. This article provides guidelines on how to conduct interviews and check references effectively to help you make a well-informed decision.
Popular locations to hire from with salaries
Want to know what types of roles you can fill using Dynamite Jobs? Check out examples of remote jobs that we have successfully helped fill, including information about salary ranges, locations for hire, and job categories.