Customizing Your Job Alerts: Get Relevant Job Opportunities in Your Inbox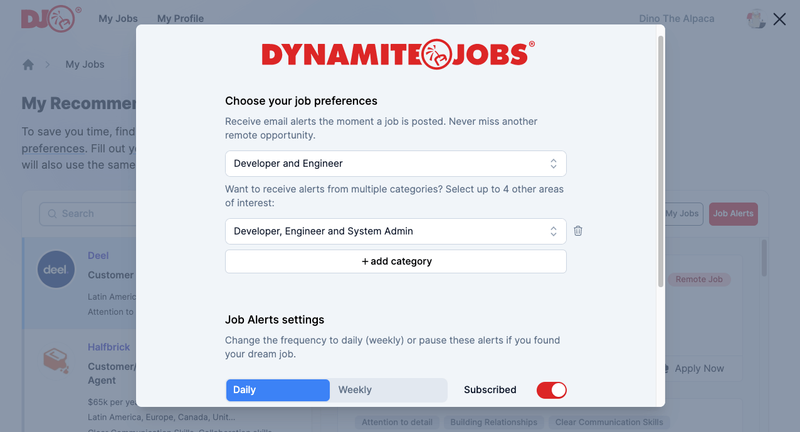 Finding a remote job that suits your skills and preferences can be challenging, especially when you're competing with a large pool of candidates and don't want to spend hours browsing job boards. Fortunately, we're making this process easier for you with customized Job Alerts.
Here are the steps to follow to get the best remote job recommendations in your inbox:
Log in or Sign up on your candidate profile account
The first step is to create a candidate account on Dynamite Jobs. If you're already registered, log in to your account.
Access the side menu of your account.
Once you're logged in, click on your icon to access the side menu, or tap the ≡ symbol on your mobile device.
Click on Job Alerts
Select the remote job categories you want to hear about
You can choose up to five job categories or subcategories that match your skills and preferences. For example, as a software engineer, you might select "Developer and Engineer" and then further refine your search by choosing relevant subcategories like "Front-End", "Back-End",  "Full-Stack", among others.
By selecting only the categories and subcategories that are relevant to your skills and interests, you can ensure that you'll only receive job alerts for remote positions that are a good match for your qualifications.
Enable the Job Alert toggles and adjust the frequency of these email alerts
In this step, you can customize the frequency of these email alerts, choosing to receive them daily, weekly, or even as soon as a relevant job goes live. This way, you can stay up-to-date with the latest remote jobs that match your skills and interests, without having to constantly check the job board.
Note that to get even more targeted recommendations, we recommend completing your profile and uploading your resume. Our algorithm takes keywords from your profile and resume to suggest remote jobs that are even more tailored to your skills and preferences.
Setting up your job alerts on Dynamite Jobs is an excellent way to find your next remote opportunity. With hundreds of remote jobs posted every week, following the simple steps outlined above can help you save time on your job search.
Want to increase your opportunities to land a remote job and be contacted by active hiring companies? Start by creating your Dynamite Jobs profile and following our tips to make your resume stand out.