Using ChatGPT to Improve Your Job Applications and Land Interviews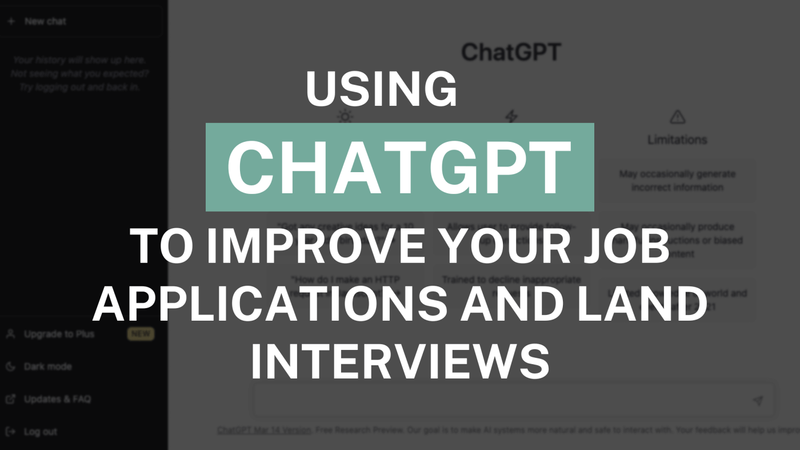 The concept of Artificial Intelligence (AI) has been around for quite a long time, but its use in everyday operations has become more widespread in recent years, particularly after 2010. Industries have become increasingly aware of the benefits of implementing automated systems, such as improved processes, data management, and process automation, which have the potential to save both time and money.
But I'm not here to discuss the history of artificial intelligence. I'm here to tell you about a recent boom that has revolutionized the world. I'm sure many of you have heard of ChatGPT and its capacity to answer pretty much anything. But how can you make the most of this tool? In particular, how can you use ChatGPT to apply for jobs and get interviews? I'm going to show you how!
What I'm covering in this article: 
Before I jump into the details, I want to emphasize the importance of putting effort into researching information about the company you're applying to, and being honest and transparent about your work experience. 
Keep in mind that hiring managers have a keen eye for detecting false information and unrealistic backgrounds; as technology advances, they will use tools like Grammarly, Writer.com, Crossplag, or Originality to uncover any attempt of plagiarism or generic AI-generated content. 
That's why I encourage you to use this tool wisely, as a means of enhancing the way you sell yourself to companies. Chat GPT is an incredible tool that can elevate your application to the next level if used correctly.
Getting Started: Setting up an account
To get started, you need to create an account on ChatGPT. Once you're in, you're ready to initiate a chat. Here's an image of what you should see after signing up: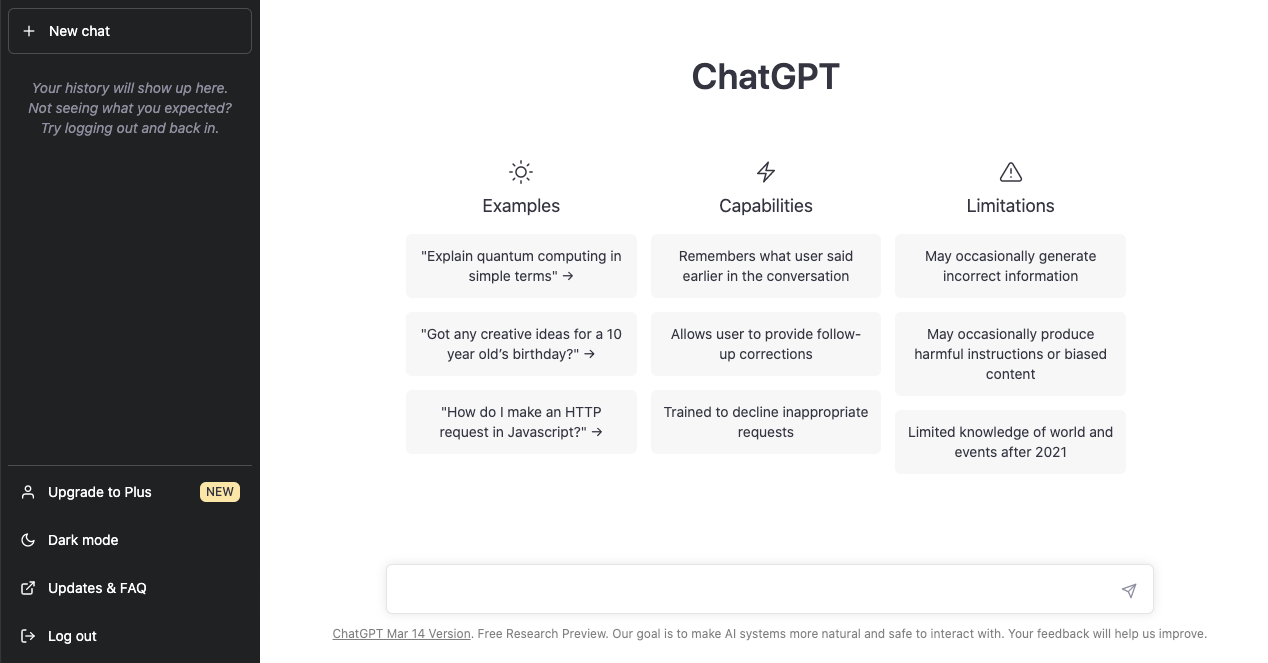 Currently, ChatGPT offers a free version, but for those seeking faster speeds or priority service during peak hours, upgrading to "Plus" is an option.
How to use ChatGPT to write a resume
In this section, we're going to cover how to create a keyword-optimized resume. Make sure you have the following information on hand:

Have your resume ready to optimize the information about your work experience, education, and skills. 

The description and full information on the job you want to apply for or the type of job you want to pursue. 
To begin, start a chat with ChatGPT and provide details about the job description or the type of job you want to use as a reference. You can find hundreds of job descriptions on our remote jobs page. 

Here's how to start talking with ChatGPT:
Hey ChatGPT, I want to work with you on improving my resume. I will share details about how I need your help in this conversation. 

For this chat, always keep this job description as a reference:

[Paste job description below]
Next, specify which section of your resume you want to optimize, such as Work Experience, Skills, or Professional Summary. I recommend breaking your resume into sections to get better recommendations. 
Please edit my work experience [or the section of your preference], optimizing it to be relevant to the job description provided above.
[Paste resume section below]
As ChatGPT provides suggestions, review them carefully and ask for clarification or provide more details if needed. Remember to send commands rather than ask questions to ensure that the AI edits your resume directly.
Hiring Manager's tip: To receive the best possible resume edits from ChatGPT, it's essential to provide specific achievements and results from your previous work experience If possible, include relevant statistics to add even more impact. For example: During my time at Dynamite Jobs, I developed marketing strategies that led to a 24-fold increase in our audience, growing from 10K job seekers to 250K candidates within two years.
Once you have optimized all sections of your resume, place your information into a resume template that will help you keep your information organized. There are many free and paid tools available, such as Resume.io and ResumeCoach.

Maximize the benefits of these optimizations beyond your resume. Leverage them to refresh your online professional profiles like Dynamite Jobs or LinkedIn and start applying for jobs with confidence. 
Using ChatGTP to create a cover letter
To ensure that your cover letter is tailored to a specific company and job opportunity, and expresses your interest in joining their organization, you need to have the following information available:
Information about the company, such as name, industry, and mission

Job description you're applying for

Your already improved work experience and resume 

Optional: Your career goals and why you think you'd be a great fit for the role and the company
Send this message in the same chat where you improved your resume, but if for some reason this chat is no longer available, add an extra section to this message where you can add your resume: 
Please generate a one-page cover letter with the following information:

Company Name: [Add company name]

Company's mission: [Add company's mission]

Why I am a good fit: [Add a brief description of why you personally believe you're a match for the job, share here your career goals as well]

Voice of the cover letter: [Optional, ask ChatGPT to give the cover letter the voice you want, whether you want to sound, casual, formal, friendly, convincing, feel free to specify it here]

Use the improvements generated previously on my resume to generate the cover letter.
After receiving the initial version of your cover letter, I recommend reading it multiple times and making any necessary corrections. In my experience, the first suggestions from the AI may not always be the most effective. Therefore, it's important to work on edits yourself until you and ChatGPT arrive at an accurate, tailored, and attention-grabbing cover letter.
Using ChatGPT to help you prepare for interviews
Whether you have a few interviews lined up or you simply want to be prepared for future interviews, this section can help you make the most of ChatGPT and present yourself as a professional.
We'll take a different approach to chat with ChatGPT in order to help you understand the structure of an interview and, of course, build the confidence you need to sell yourself and land the job.

If you've already used ChatGPT to edit your resume and cover letter, it would be helpful to continue the conversation in the same chat. However, feel free to start a new chat if you prefer. To begin, copy and paste the following message into the chat: 
Hey ChatGPT, I want to do an exercise with you.

I'm going to apply for a [Job Title] job and I need your help to prepare myself for the interviews coming up.

You will be my career coach advisor, and you will give me all the tools I need to win the interview and get the job.

Ready?

For reference, here's the job description: 

[Paste job description]
Once you hit "Enter", ChatGPT will provide you with a detailed explanation of the information you should prepare and the key points from the job description that you should highlight during your interview.  Then, simply ask ChatGPT to generate interview questions specific to your case by typing, "Generate interview questions for this job." After answering these questions, feel free to go back and forth with ChatGPT to refine your responses and ask for feedback.
If you don't have a job description on hand, but you're curious about common interview questions that hiring managers ask for your career, simply ask, "What are common questions that hiring managers ask when interviewing for [job title]?" ChatGPT will generate a list of questions to help you prepare for your next interview.
Conclusions
ChatGPT is a useful tool that can help you improve your professional profile and make you stand out from the crowd in order to land interviews. However, it's crucial that you use it wisely and honestly by helping you identify how to better sell your experience, rather than making up a false background. 
When using ChatGPT to create your resume, cover letter, or prepare for interviews, be sure to gather as much information about the job as possible. This will allow ChatGPT to provide even better recommendations, optimizing your chances of success.
So give ChatGPT a try, and see how it can help take your job search to the next level!
---
About the Author:
Hey there! I'm Lina Castro, and I currently manage Customer Support and Operations at Dynamite Jobs. With over 4 years of experience working in the Recruitment and HR industry, I'm confident that my advice on this blog will help you land a remote job.