High-Paying Remote Jobs You Can Do from Anywhere in the World in 2023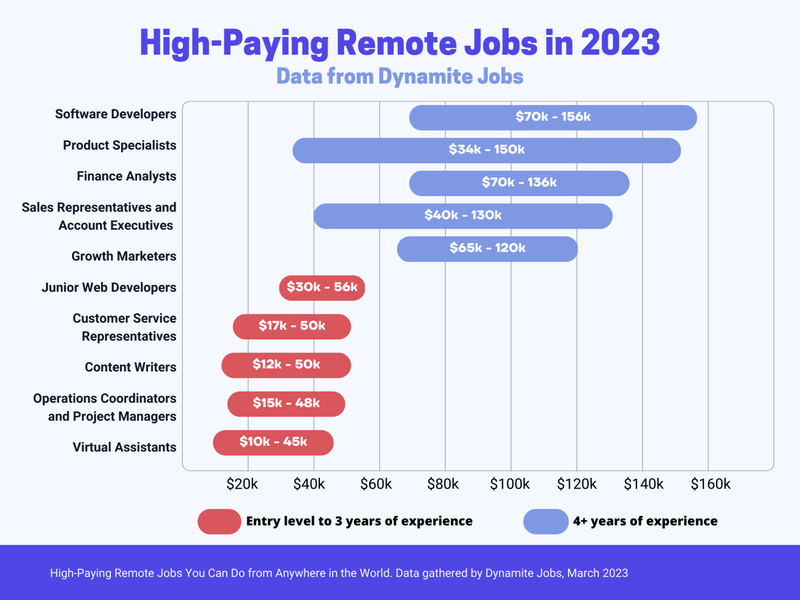 Are you looking for high-paying, remote jobs that allow you to work from anywhere in the world? If so, then you have come to the right place! Whether you're a seasoned professional or just starting out, we've got you covered. In this article, we'll unveil the top 5 highest paying remote jobs for mid-senior level job seekers and the top 5 highest paid entry-level jobs that constantly get posted on Dynamite Jobs. 🧨
We've compiled this list based on real-world data shared by hiring managers who posted jobs on Dynamite Jobs in 2022 and 2023. And while you may not start out earning six figures with no experience, this article will give you valuable insight into the careers with the biggest earning potential.
So, if you're ready to learn about exciting and lucrative remote jobs, keep reading!
Highest-paid remote jobs for mid-senior job seekers:
Software Developers 
Software development is one of the most in-demand careers in the remote world today, thanks to technological advancements and the growing importance of having a strong online presence. With more transactions and purchases happening online, companies across various sectors, including SaaS, eCommerce, marketing, education, and finance, require the expertise of software developers to maintain and enhance their digital platforms.
Salaries for mid to senior-level remote web developers can range from $70k to $156k per year, with some remote jobs offering salaries as high as $270k per year.
As a software developer, you can specialize in various skillsets, such as Backend, Frontend, DevOps, Full-Stack, Blockchain, and Cloud Management, among others. Due to the high demand for these skillsets, software developers are among the highest-paid remote professionals.
Here are some companies that offer a good, competitive salary for Software Developers: 
Find hundreds of high-paid remote software developer jobs. 
Product Specialists 
Product specialists, including product managers, designers, and engineers, are crucial in various industries such as SaaS, tech, healthcare, finance, and consumer goods, among others. Their role is to ensure the development of products that meet the needs and preferences of customers. They conduct market research, analyze customer feedback, and work closely with other teams, such as marketing and engineering to create products that meet customer expectations.
Product specialists are among the highest-paid remote professionals, with salaries ranging from $34k up to $150k per year. This is because companies understand the importance of having a well-defined and developed product to increase revenue and remain competitive in the market. 
With the rise of e-commerce and the increasing demand for online shopping, the demand for product specialists is expected to grow in the coming years.
These companies know the importance of hiring Product Specialists on their teams:
Find Product Development jobs that will allow you to work remotely. 
Finance Analysts
As businesses expand and become more complex, finance analysts play an important role in decision-making by providing insights into financial data. With a salary range of $70k - $136k per year, remote finance analysts can expect a lucrative career. Industries such as finance, banking, healthcare, and technology rely heavily on finance analysts to interpret data and create actionable insights.
One of the reasons finance analysts receive high pay is due to the level of expertise required to analyze complex financial data accurately. Moreover, finance analysts are often responsible for making strategic decisions based on their analysis, which can have a significant impact on a company's bottom line.
Regarding remote work, financial analysis is a good career choice as the role can be performed effectively from anywhere. This allows for flexibility and the ability to work with clients and businesses from all over the world. 
Here are some companies that offer a competitive salary for Finance Analysts: 
Do Big Things

Browse the best remote finance and accounting job opportunities. 
Sales Representatives and Account Executives 
Remote Sales representatives and account executives are professionals that can easily make from 40k up to $130k per year if their sales performance and client retention are high. These professionals are key in many industries as they are responsible for generating revenue for their companies by selling products and services to customers. They are also responsible for managing existing client relationships or prospecting new clients, negotiating contracts, and closing deals.
Sales representatives are also in high demand, representing 11.48% of the jobs posted on Dynamite Jobs. Professionals in sales usually are paid a base salary plus sales commissions, which allow them to receive high payments as well. Some jobs offer uncapped commissions, which is great for the employees. 
Here are some companies that have looked for Sales Representatives and Account Executives on Dynamite Jobs, and offer competitive salaries:
Growth Marketers
Growth marketers are crucial in helping companies scale and expand their customer base. They are responsible for developing and executing marketing strategies that generate leads, increase brand awareness, and, ultimately, drive revenue growth. By increasing the number of customers and driving revenue growth, they help companies achieve their business goals and outpace their competitors.
Growth marketers receive good salaries because their work directly impacts the bottom line of the companies they work for. They can earn from $65k up to $120k per year. 
The importance of growth marketers within a company cannot be overstated. They are often the driving force behind a company's growth, working closely with product teams, sales teams, and other departments to ensure that marketing strategies align with business objectives. They are also skilled at using data to measure the effectiveness of marketing campaigns and make data-driven decisions to optimize performance.
Companies that recognize the value of growth marketers and offer good salaries in this category include: 
Highest-Paid Entry-Level to 1-3 Years of Experience Roles:
Junior Web Developers
Junior web developers are in high demand due to the increasing importance of web development in today's digital age. As a result, it is a great career to break into, particularly as it is one of the highest-paid entry-level jobs available. Junior web developers are essential as they support senior developers and other teams in implementing and maintaining websites and web applications. They play an important role in coding, testing, and debugging website features.
As an entry-level remote web developer, you can earn a salary ranging from $30k to $56k per year. 
Individuals considering a career in web development should acquire the necessary coding skills to break into the field. While a degree in computer science or a related field can be helpful, there are also many boot camps and online resources available that can teach individuals the necessary skills to become a junior web developer.
Here are some companies that have looked for Junior Web Developers on Dynamite Jobs, and offer competitive salaries:
Customer Service Representatives
Customer service representatives are a great starting point for anyone interested in breaking into the remote work world. This is a good career choice for those who enjoy helping others and solving problems. Customer service positions for people with 0-3 years of experience offer salaries between $17k and $50k annually.
To become a customer service representative, a degree is not always necessary. However, strong communication skills, both written and verbal, are essential. Attention to detail, a friendly and empathetic attitude, and problem-solving skills are also important qualities for success in this field.
As companies continue to shift towards remote work, customer service representative roles will continue to be in demand. With the rise of AI technology, there may be a shift towards more advanced customer service roles that require critical thinking and complex problem-solving skills.
These companies offer competitive salaries and a supportive work environment for their remote customer service teams.
Content Writers
Content Writing jobs are a great way to break into the remote world, as it allows people the flexibility to be location independent. This can be a well-paid career for candidates who enjoy writing and are starting their remote career, with salaries ranging from $12k to $50k per year. 
Getting started as a content writer often requires a strong writing portfolio, excellent communication skills, strong grammar and punctuation, research skills, and writing in various styles and tones. 
Content writers are crucial in helping businesses communicate their message and build their brand across various industries such as marketing, journalism, and e-commerce. They create engaging and informative content that increases businesses' visibility and reaches their target audience. 
Some companies that hire content writers at Dynamite Jobs are: 
Let Me Write That Down for You
Operations Coordinators or Project Managers
Operations coordinators or project managers play essential roles in ensuring project success. These professionals are responsible for keeping projects on track, within budget, and meeting quality standards. Entry-level salaries for these roles can range from $15k to $48k per year, depending on experience and qualifications.
To break into operations without much experience, candidates can start by gaining project management skills through online courses or certification programs. While a degree is not always required, a Bachelor's degree in fields such as business, engineering, or management can be helpful. Candidates should also focus on building communication, organizational, and problem-solving skills, as well as gaining experience working in a team setting. With dedication and the right skill set, candidates can build a successful career in everything Operations and Project Management. 
Here are the companies that offer good salaries in the operations coordinator or project manager category:
Look who is currently hiring for Operations and Project Management roles.
Virtual Assistants
Virtual assistants (VAs) play a crucial role in ensuring the smooth operation of businesses and individuals by taking care of administrative tasks and allowing their clients to focus on higher-priority tasks. VAs are important as they help save time and increase client productivity, ultimately leading to better business outcomes.
Becoming a VA or executive assistant is a great career to follow and break into the remote world, as the demand for online administrative support continues to increase due to the rise of remote work. As a VA, you can earn from $10k up to $45k per year. This career offers flexibility, as VAs can work from anywhere in the world and typically have control over their schedules.
The skills required to become a VA or executive assistant include excellent communication and organizational skills and proficiency in computer programs such as Microsoft Office and Google Suite. While a degree is not necessarily required, a background in administration, business, or a related field can be beneficial.
Some companies that offer good salaries for VAs and Executive Assistants on Dynamite Jobs include:
In conclusion, the remote job market is growing rapidly, and there are plenty of high-paying opportunities available for professionals who want to work from anywhere in the world. In this article, we've identified the top 5 highest-paid remote jobs for mid-senior level job seekers and the top 5 highest-paid entry-level jobs.
The mid-senior level jobs include software developers, sales representatives and account executives, growth marketers, product specialists, and financial analysts, with salaries ranging from $34k up to $156k per year. Entry-level jobs with high earning potential include operations coordinators or project managers, virtual assistants, content writers, junior web developers, and customer support representatives, with salaries ranging from $10k up to $50k per year. 
With the right skills and experience, remote work can offer you the freedom to work from anywhere in the world while earning a competitive salary.